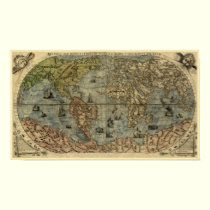 Ferando Berteli (alternatively Fernando Bertelli or Ferrando Bertelli): universale descrittione di tutta la terra conosciuta fin qui. A nicely coloured example of this beautiful map. Shows California and America connected to Asia. Nicely decorated with wind heads and monsters.
Many features may be customised, such as border and background colours. Images may be resized or moved, and many products are available in a number of pre-edited variations. Please browse the category to see all options.
Vintage World Map Reproduction. High Resolution image suitable for large or small copies. This is a reproduction and may have been digitally enhanced to repair flaws, major stains, etcetera.
Image courtesy of OldBookArt.com. Visit their
Blog
or their
Gallery
to find thousands of other free images and maps from public domain sources.
<centre>
</centre>
Many Images are from Books and Maps for Sale at
ZephyrusBooks.com
.
<centre>

</centre>