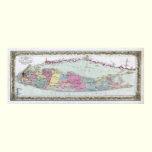 Published by J. H. Colton & Co., New York
This map has been formatted in two versions. Both are colour corrected to enhance the image, but one has been lightened a bit to bring out the original white of the paper. Many people prefer the aged tone so I have left that alone in the other version. This version you are looking at is the lightened version. Click
HERE
to see the other (age toned) version on all available products.
High Resolution image suitable for large or small copies. This is a reproduction and may have been digitally enhanced to brighten contrast, repair flaws, major stains, etcetera.
It is often hard to tell what the product will actually look like, especially on shirts, prints and other larger scale products. This product is made from a very high resolution file which gives intricate detail and wonderful resolution. Here is a sample detail from the master files used to create our maps, which should give a better idea of what the resolution on the product will look like. If you click the image it will open a larger detail image file to view.
Options such as border sizes, background and border colours, and certain text may be edited and changed if you like. Just click the customise button.
This image has been edited to adjust for age and discoloration, and to repair any major defects.
The images are reproduced here from very high resolution files, so you can be confident that the quality will remain the best. The images have been edited and cleaned up.
Image courtesy of OldBookArt.com. Visit their
Blog
or their
Gallery
to find thousands of other free images and maps from public domain sources.
<centre>
</centre>
Many Images are from Books and Maps for Sale at
ZephyrusBooks.com
.
<centre>

</centre>