Copper Cockeral Cards and Gifts stocks cards, shirts, and prints featuring original art and photos by Maine native Wendy C. Allen a.k.a. EelKat.
Celebrate our 6 year anniversary with us! (Selling art on Zazzle since 2004!)
This is the sister gallery to
The Pidgie Fund
, both of which are owned by
The Twighlight Manor Press
.
Did you know I have Autism? Many people are taken back by that, because they think of Autism as a "Children's Disease" and for some reason have no idea that children with Autism, grow up to be adults with Autism. Autism does not go away because it is not a disease! Autism stays with you for life. You can find my Autism Awareness products, including products for Adults with Autism and t-shirts for Autism Service Dogs at:
Puzzled By Autism?
Other galleries I run include:
The Talking Car
The Rabbit Hole
Old Orchard Beach, Maine Photography
My newest gallery
EK's Dogs
, featuring my art on dog clothing, can be seen here:

My mum and 3 brothers each have their own Zazzle Galleries, so be sure to check out their work as well @
Tiddledeewinks
FlashAllen
The Juiceman
Johnny 5 Allen
You can find out
How I Became An Artist
. For those of you who have asked what I use to create my art work, here is info about
My Art Equipment
, and for those just starting out, I recommend using these books because they are the
Best Art Instruction Books
and the ones I use myself. You can find out more about me @
Who is This EelKat Person Anyways?
. And you can find out more about Copper Cockeral @
Copper Cockeral Cards & Gifts
Thank you for visiting my sites. Love and kisses!
~~EK
Photography, Art, and Designs by Autistic Maine artist and photographer Wendy C Allen aka EelKat © 1978 - Present
The postage stamp choices below represent some of the different designs and themes created EelKat for
Copper Cockeral Cards & Gifts
A Twighlight Manor Company.
Please Click Each Stamp Below To View It In A Larger Size:
















































Like my designs?

Want to sew cloths, tote bags, curtains, and pillows to match?
Now you can using my line of custom fabrics created using the same designs sold here on Zazzle!
http://www.spoonflower.com/profiles/eelkat
Fabrics available in clothing, quilting, designer, or upholstery weights. Prices starting at just $18 a yard. Do you see one of my drawings that you like and want made into fabric? Let me know. All of my paintings will eventually become available as fabric, but it's a long process, so if there's one you want to see come out sooner than others, just tell me. Thanks!
On September 20, 2007, after building Squidoo Lenses about my products on Zazzle, I won Squidoo's The Giant Squid Award. Click on the picture to check out my lenses:
.
... ... .
================================================================== ==================================================================
Hey, you know what?
I sell Avon!
My grandmother, Helen Ricker Allen of Old Orchard Beach, Maine, started selling Avon in the 1920's and for many years was one of New England's top representatives. My mum took over for her in the 1980s. In 1996 I took over for her. While I personally have been selling Avon for only 14 years, my family has been supplying all of Old Orchard Beach's Avon needs for more than 80 years!
Besides selling locally, I am also an
Independent Avon eRepresentative
and that means now you don't have to live in Old Orchard Beach or even in Maine at all to buy great Avon Products from me! You can
buy Avon from me
, 24 hours a day, from your computer, from any place in the world, and
Avon will ship it to you
. Isn't that great? I love the online world!
================================================================== ==================================================================
Did you know I have Autism? You can find my Autism Awareness products, including t-shirts for Autism Service Dogs at:
Puzzled By Autism?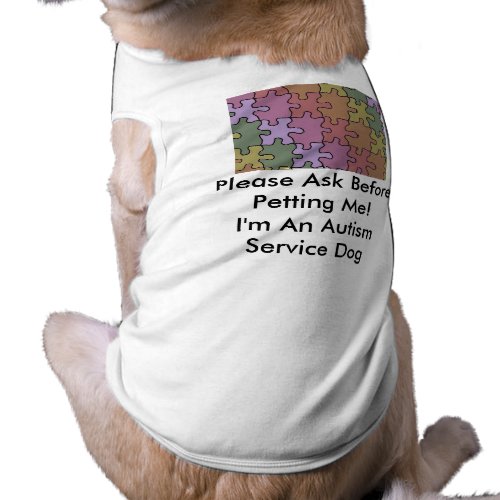 autism puzzle pieces 35
by
PuzzledByAutism
View more
Puzzled by autism Pet Clothing
================================================================== ==================================================================
~~~ ALL ITEMS IN ALL OF MY SHOPS CAN BE CUSTOMIZED BY YOU ! ~~~
My designs come in a variety of styles for you to choose from, but don't let that stop you from using your own creativity to express your unique personality. That's right! EVERYTHING in this shop is customisable! Simply click the
CUSTOMIZE IT
link on the product page and move design elements around to explore what will look best on you! You can add your own text or images, change colours, add new backgrounds, change product sizes, styles, colours, and shapes. The possibilities are endless!
All together across all of my shops, I have well over 10,000 products for sale. There are 8,000 products in this shop alone. To make it easier for you to find them all, I have sorted my products by graphic design/image
on my front page
. Simply click on the image to be taken to all of the products featuring that design on them! And remember: It's all 100% authentic Maine art from a 15th generation Maine Native! Not only am I a Native Mainer, I'm a Native American Native Mainer who is still living on the same land our family has lived on for more than 500 years! You can't get any more Native Mainer than that!