218 Minnesota Swag Bumper Sticker
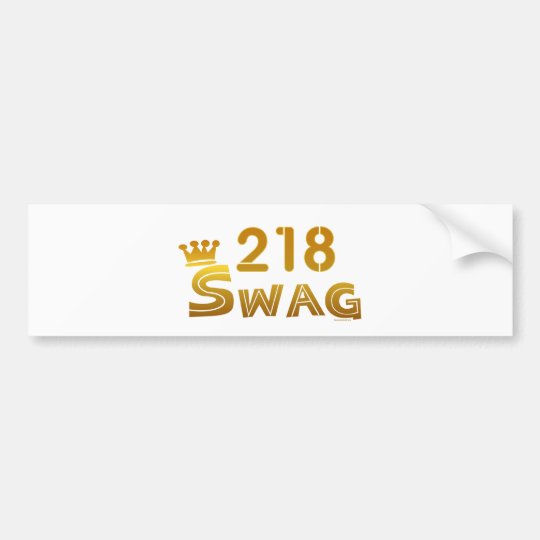 Details

Style: Bumper Sticker
Make your car a reflection of you! Get your point across with this quality bumper sticker that will outlast heavy rain, intense sunlight, and the most severe of traffic jams.
28 X 7.7 cm (11" x 3"); Large enough for any message
100% weatherproof
Made from durable vinyl with a strong adhesive back
Printed with water-resistant ink that won't fade or run
Please note, stickers are fully printed and are not translucent or clear
No minimum order
218 Minnesota Swag Bumper Sticker
This swagger design includes your 218 area code along with the word "swag" in a large, golden font with a matching crown sitting partially above the "S." Buy this now, because it's time to show your city, state, and hood (neighbourhood) who's the real King or Queen of Minnesota swag! Our motto is: "Never too young, never too old to represent where you're from!" ~Area Code Goldmine The 218 area code serves the following cities/towns within the state of Minnesota: Ada, Aitkin, Akeley, Alborn, Alvarado, Angle Inlet, Argyle, Ash River, Ashby, Audubon, Aurora, Babbitt, Backus, Badger, Bagley, Barnesville, Barnum, Battle Lake, Baudette, Bear River, Becida, Beltrami, Bemidji, Bena, Bennettville, Bertha, Big Falls, Bigfork, Biwabik, Blackduck, Borup, Boy River, Brainerd, Breckenridge, Breezy Point, Brimson, Brooks, Brookston, Buhl, Bygland, Callaway, Campbell, Carlton, Cass Lake, Chisholm, Clarissa, Clearbrook, Climax, Cloquet, Cohasset, Coleraine, Comstock, Cook, Cormorant, Cotton, Crane Lake, Cromwell, Crookston, Crosby, Cross Lake, Dalton, Deer Creek, Deer River, Deerwood, Denham, Dent, Detroit Lakes, Dilworth, Donaldson, Duluth, East Abercrombie, East Drayton, East Fairmount, Eagle Bend, East Grand Forks, Elbow Lake, Ely, Embarrass, Emily, Erhard, Ericsburg, Erskine, Evansville, Eveleth, Federal Dam, Felton, Fergus Falls, Fertile, Finland, Fisher, Flom, Floodwood, Fosston, Frazee, Gary, Gatzke, Glyndon, Gonvick, Goodridge, Grand Marais, Grand Rapids, Greaney, Greenbush, Grygla, Gully, Gunflint Trail, Hackensack, Hallock, Halma, Halstad, Hawley, Henning, Hibbing, Hill City, Hitterdal, Holt, Hovland, Hoyt Lakes, Humboldt, Ideal Corners, Inger, International Falls, Isabella, Itasca State Park, Jacobson, Kabetogama, Karlstad, Keewatin, Kelliher, Kennedy, Kettle River, Kimberly, Lake Bronson, Lake Park, Lancaster, Laporte, Leader, Lengby, Leonard, Lincoln, Littlefork, Longville, Mahnomen, Maine, Malung, Maple Bay, Marble, Marcell, Mcgregor, Mcintosh, Meadowlands, Menahga, Mentor, Middle River, Miltona, Minerva, Minnewawa, Mission, Moorhead, Moose Lake, Motley, Mountain Iron, Nashwauk, New York Mills, Newfolden, Nickerson, Nielsville, Nimrod, Nisswa, Nokay Lake, Northome, Oklee, Orr, Osage, Oslo, Ottertail, Outing, Palisade, Palo, Park Rapids, Parkers Prairie, Pelican Rapids, Pequot Lakes, Perham, Perley, Pillager, Pine River, Plummer, Ponemah, Puposky, Ranier, Red Lake, Red Lake Falls, Remer, Rollag, Roosevelt, Roseau, Rothsay, Sabin, Sebeka, Shelly, Shevlin, Silver Bay, Solway, Squaw Lake, St Hilaire, St Vincent, Staples, Stephen, Strandquist, Strathcona, Sturgeon Lake, Thief River Falls, Tintah, Tofte, Tower, Turtle River, Twin Valley, Two Harbours, Ulen, Underwood, Urbank, Vergas, Verndale, Viking, Vining, Virginia, Washington Forest, Wadena, Walker, Wannaska, Warba, Warren, Warroad, Waubun, Wawina, Wendell, Whipholt, White Earth, Williams, Winger, Wolf Lake, Wolverton, Woman Lake, Wright
There are no reviews for this product yet.
Product ID: 128450524978417962
Created on