Call my Mum - Texting Safedriving LifeSaver Bumper Bumper Sticker
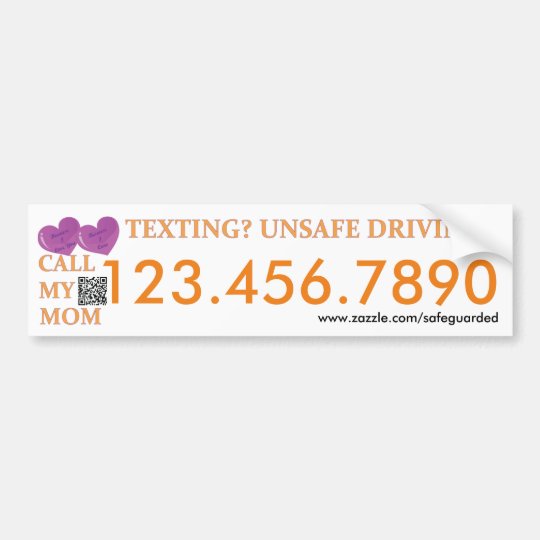 Style: Bumper Sticker
Make your car a reflection of you! Get your point across with this quality bumper sticker that will outlast heavy rain, intense sunlight, and the most severe of traffic jams.
28 X 7.7 cm (11" x 3"); Large enough for any message
100% weatherproof
Made from durable vinyl with a strong adhesive back
Printed with water-resistant ink that won't fade or run
Please note, stickers are fully printed and are not translucent or clear
No minimum order
Call my Mum - Texting Safedriving LifeSaver Bumper Bumper Sticker
While on his "learners permit" my 15 year old son is driving with me as "teacher". Then his phone makes that "you have a text" sound. He goes to pick it up and I say "No! That is very dangerous to do while driving. As I took the phone, I could tell by the look on his face that he didn't believe it. It turns out that 77% of teenagers don't believe it. (textinganddrivingsafety.com/statistic) I knew when I wasn't there, when no one was watching, the texts would be answered. How could I protect my beloved son? I knew I really needed some help. That's when I came up with the idea for this bumper sticker. If we work together, this bumper sticker will protect my son as if I were in the car with him, and it can protect your loved ones too. Let's face it, we are all more likely to do the right thing and less likely to do stupid things when we are being observed by others. When you add in the fact that our loved ones may hear about it, you have a great incentive to do the right thing, THE SAFE THING! Every car with this bumper sticker will carry a safer driver. That will save lives. You can see that if everyone had one of these bumper stickers on their car, many crashes would be eliminated and many deaths would be avoided. Not every car will, but mine will. WILL YOURS? Note: Are you worried about having your phone number on a bumper sticker? Before you order go to google.com/voice and get a free separate phone number just for the one you love.
There are no reviews for this product yet.
Product ID: 128319669043981362
Created on