Campbell Clan Bumper Sticker
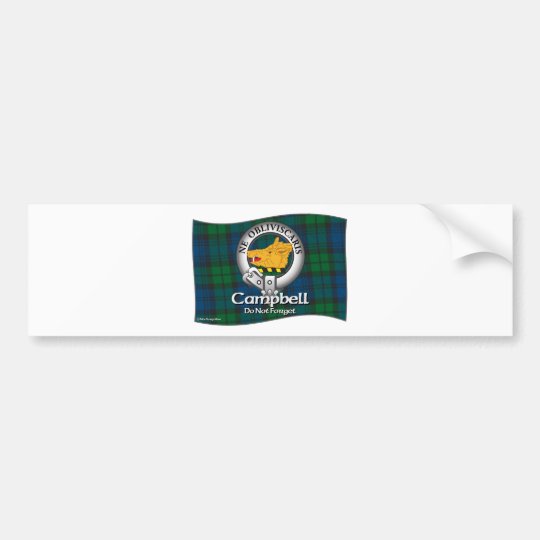 Style: Bumper Sticker
Make your car a reflection of you! Get your point across with this quality bumper sticker that will outlast heavy rain, intense sunlight, and the most severe of traffic jams.
28 X 7.7 cm (11" x 3"); Large enough for any message
100% weatherproof
Made from durable vinyl with a strong adhesive back
Printed with water-resistant ink that won't fade or run
Please note, stickers are fully printed and are not translucent or clear
No minimum order
Campbell Clan Bumper Sticker
Campbell Clan Tartan, Crest Badge and Motto on a wide variety of products. The belt and buckle indicates the wearer is a member of the clan symbolised by the chief's crest and motto within the belt.  The belt encircling the crest takes the place of the Gaelic phrase "an cirean ceann cinneadh" (crest of the clan chief).  It is generally accepted that Clan Tartans date to the beginning of the 19th century. The Campbell Clan Crest "On a boar's head erased fessways erased Or, armed Argent, langued Gules." The Campbell Clan motto is chosen by the Clan Chief. Ne Obliviscaris, Do Not Forget. Clan Campbell Septs: Arthur, MacArtair, MacArthur, MacCarter. Bannatyne, Ballantyne, Blanton. Burnes, Burness, Burnett, Burns. Caddell, Cadell, Calder, Cattell. Connochie, Conochie, MacConachie, MacConchie, MacConnechy, MacConochie. Denoon, Denune. Gibbon, Gibson, MacGibbon, MacGubbin. Harres, Harris, Hawes, Haws, Hawson. Hastings. Isaac, Isaacs, Kissack, Kissock, MacIsaac, MacKessack, MacKessock, MacKissock. Iverson, Macever, Macgure, MacIver, MacIvor, Macure, Orr, Ure. Kellar, Keller, Maceller, MacKellar. Lorne. Louden, Loudon, Loudoun, Lowden, Lowdon. MacColm, MacColmbe, MacLaws, MacLehose, MacTause, MacTavish, MacThomas, Riddell, Taweson, Tawesson, Thomas, Thomason, Thompson, Thomson. MacDermid, MacDermott, MacDiarmid. MacElvie, MacKelvie. MacGlasrich. MacKerlie. MacNichol. MacNocaird. MacOran. Macowen. MacPhedran, MacPhederain, Paterson. MacPhun. Moore, Muir. Ochiltree. Pinkerton. Tanner, Tonner, Torrie, Torry.
There are no reviews for this product yet.
Product ID: 128901026504137815
Created on