Circle A Anarchy Symbol Anarchist Anarchism Classic Round Sticker
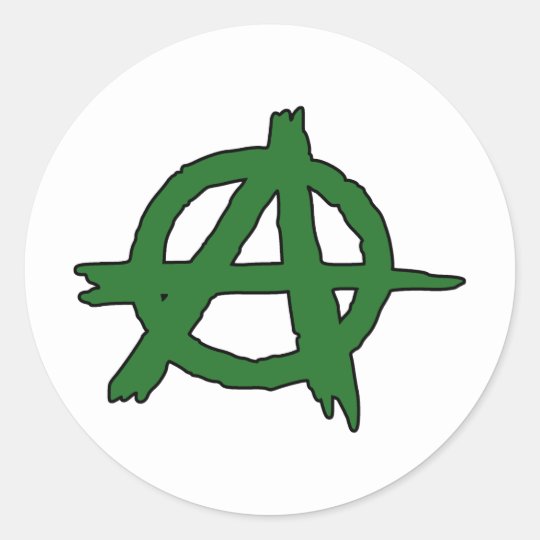 Shape: Classic Round Sticker
Create custom stickers for every occasion! From wedding favours to baking to labelling the kids' stuff, make your unique style stick.
Dimensions: Available in 2 sizes:

Large: 7.6 cm diameter, 6 stickers per sheet
Small: 3.8 cm diameter, 20 stickers per sheet

Printed on white acid-free paper
Vibrant full-colour, full-bleed printing
Scratch-resistant front, easy peel-and-stick back
Available in a matte or glossy finish
Use the "Customise it!" button to choose between 7 different shapes
Circle A Anarchy Symbol Anarchist Anarchism Classic Round Sticker
Since the revival of anarchism at the turn of the 21st-century concurrent with the rise of the anti-globalisation movement, anarchist cultural symbols are widely present. The Circle-A is almost certainly the best-known present-day symbol for anarchy. It is a monogram that consists of the capital letter "A" surrounded by the capital letter "O". The letter "A" is derived from the first letter of "anarchy" or "anarchism" in most European languages and is the same in both Latin and Cyrillic scripts. The "O" stands for order. Together they stand for "Anarchy is Order," the first part of a Proudhon quote.[8] This character can be written as Unicode codepoint U+24B6: Ⓐ. In addition, the "@" sign or "(A)" can be used to quickly represent the circle-A on a computer. The first recorded use of the A in a circle by anarchists was by the Federal Council of Spain of the International Workers Association. This was set up by the freemason, Giuseppe Fanelli in 1868.[9] It predates its adoption by anarchists as it was used as a symbol by freemasons amongst others. According to George Woodcock, this symbol was not used by classical anarchists. In a series of photos of the Spanish Civil War taken by Gerda Taro a small A in a circle is visible chalked on the helmet of a militiaman. There is no notation of the affiliation of the militiaman, but one can presume he is an Anarchist. The first documented use was by a small French group, Jeunesse Libertaire ("Libertarian Youth") in 1964. Circolo Sacco e Vanzetti, youth group from Milan, adopted it in and in 1968 it became popular through out Italy. From there it spread rapidly around the world. As noted above, the circle-A long predates the anarcho-punk movement, which was part of the punk rock movement of the late 1970s. However, the punk movement helped spread the circle-A symbol more widely, and helped raise awareness of it among non-anarchists. This process began with the use of anarchist imagery by the Sex Pistols, though Crass were the first punk band to use the circle-A as well as being the first to espouse serious anarchist views. They had earlier discovered it – then merely an extremely esoteric political emblem – while travelling through France.[11] With time the symbol, and "anarchy" as a vague synonym for rebelliousness, were incorporated into common punk imagery. This led to gradual appearances in mainstream culture over the course of several years, at times far removed from its political origin (described by Situationists as "recuperation"). These appearances typically connected it with anarchy and were intended as sensationalist marketing ploys, playing off of mainstream association of anarchy with chaos. This process mirrored the process of punk subculture coming into the mainstream, which occurred at approximately the same time. Anarchy (from ἀναρχία anarchía, "without ruler") may refer to any of the following: * "No rulership or enforced authority." [1] * "Absence of government; a state of lawlessness due to the absence or inefficiency of the supreme power; political disorder."[2] * "A social state in which there is no governing person or group of persons, but each individual has absolute liberty (without the implication of disorder)."[3] * "Absence or non-recognition of authority and order in any given sphere. Some anarchist anthropologists, such as David Graeber and Pierre Clastres, consider societies such as those of the Bushmen, Tiv and the Piaroa to be anarchies in the sense that they explicitly reject the idea of centralised political authority.[16] However, others argue that some tribal societies of the past have often been more violent than modern technological societies, on average.[17] Some more recent anthropologists, such as Marshall Sahlins and Richard Borshay Lee, have defied the notion of hunter-gatherer societies as being a source of scarcity and brutalisation; describing them as, in the words of Sahlins, "affluent societies"
Artwork designed by
.

Chalon-sur-Saône, Saône-et-Loire, Saône-et-Loire
There are no reviews for this product yet.
Product ID: 217616466284768399
Created on