Coat of arms Québec Official Canada Heraldry Logo Classic Round Sticker
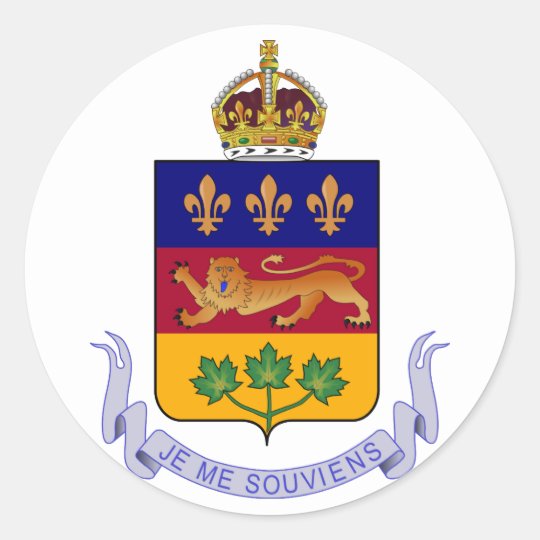 Shape: Classic Round Sticker
Create custom stickers for every occasion! From wedding favours to baking to labelling the kids' stuff, make your unique style stick.
Dimensions: Available in 2 sizes:

Large: 7.6 cm diameter, 6 stickers per sheet
Small: 3.8 cm diameter, 20 stickers per sheet

Printed on white acid-free paper
Vibrant full-colour, full-bleed printing
Scratch-resistant front, easy peel-and-stick back
Available in a matte or glossy finish
Use the "Customise it!" button to choose between 7 different shapes
Coat of arms Québec Official Canada Heraldry Logo Classic Round Sticker
Quebec (English pronunciation: /kəˈbɛk/ or /kwɨˈbɛk/; French: Québec [kebɛk]) is a province in east-central Canada. It is the only Canadian province with a predominantly French-speaking identity and the only one whose sole official language is French at the provincial level. Quebec is Canada's largest province by area and its second-largest administrative division; only the territory of Nunavut is larger. It is bordered to the west by the province of Ontario, James Bay and Hudson Bay, to the north by Hudson Strait and Ungava Bay, to the east by the Gulf of Saint Lawrence and the provinces of Newfoundland and Labrador and New Brunswick. It is bordered on the south by the U.S. states of Maine, New Hampshire, Vermont, and New York. It also shares maritime borders with Nunavut, Prince Edward Island, and Nova Scotia. Quebec is the second most populous province, after Ontario. Most inhabitants live in urban areas near the Saint Lawrence River between Montreal and Quebec City, the capital. English-speaking communities and English-language institutions are concentrated in the west of the island of Montreal but are also significantly present in the Outaouais, the Eastern Townships, and Gaspé regions. The Nord-du-Québec region, occupying the northern half of the province, is sparsely populated and inhabited primarily by Aboriginal peoples. Sovereignty plays a large role in the politics of Quebec, and the Official Opposition social democratic Parti Québécois advocates national sovereignty for the province and secession from Canada. It is supported by a wide range of voters, from large sections of organised labour to more moderate rural voters. Sovereignist governments have held referendums on independence in 1980 and 1995; the latter was defeated by a very narrow margin. In 2006, the Canadian House of Commons passed a symbolic motion recognising the "Québécois as a nation within a united Canada." While the province's substantial natural resources have long been the mainstay of its economy, sectors of the knowledge economy such as aerospace, information and communication technologies, biotechnology and the pharmaceutical industry also play leading roles. These many industries have all contributed to helping Quebec become the second most economically influential province, second only to Ontario. Historically, they were used by knights to identify them apart from enemy soldiers. In Continental Europe, commoners were able to adopt burgher arms. Unlike seals and emblems, coats of arms have a formal description that is expressed as a blazon. In the 21st century, coats of arms are still in use by a variety of institutions and individuals (for example several universities have guidelines on how their coats of arms may be used and protect their use). The art of designing, displaying, describing and recording arms is called heraldry. The use of coats of arms by countries, states, provinces, towns and villages is called civic heraldry. In the heraldic traditions of England and Scotland an individual, rather than a family, had a coat of arms. In those traditions coats of arms are legal property transmitted from father to son; wives and daughters could also bear arms modified to indicate their relation to the current holder of the arms. Undifferenced arms are used only by one person at any given time. Other descendants of the original bearer could bear the ancestral arms only with some difference: usually a colour change or the addition of a distinguishing charge. One such charge is the label, which in British usage (outside the Royal Family) is now always the mark of an heir apparent. Because of their importance in identification, particularly in seals on legal documents, the use of arms was strictly regulated; few countries continue in this today. This has been carried out by heralds and the study of coats of arms is therefore called "heraldry". Some other traditions (e.g., Polish heraldry) are less restrictive — allowing, for example, all members of a dynastic house or family to use the same arms, although one or more elements may be reserved to the head of the house. In time, the use of arms spread from military entities to educational institutes, and other establishments. According to a design institute article, "The modern logo and corporate livery have evolved from the battle standard and military uniform of mediaeval times". In his book, The Visual Culture of Violence in the Late Middle Ages, Valentin Groebner argues that the images composed on coats of arms are in many cases designed to convey a feeling of power and strength, often in military terms. The author Helen Stuart argues that some coats of arms were a form of corporate logo. Museums on mediaeval armoury also point out that as emblems they may be viewed as precursors to the corporate logos of modern society, used for group identity formation. Note that not all personal or corporate insignia are heraldic, though they may share many features. For example, flags are used to identify ships (where they are called ensigns), embassies and such, and they use the same colours and designs found in heraldry, but they are not usually considered to be heraldic. A country may have both a national flag and a national coat of arms, and the two may not look alike at all. For example, the flag of Scotland (St Andrew's Cross) has a white saltire on a blue field, but the royal arms of Scotland has a red lion within a double tressure on a gold (or) field. The Great Seal of the United States is often said to be the coat of arms of the United States. The blazon ("Paleways of 13 pieces, argent and gules; a chief, azure") is intentionally to preserve the symbolic number 13. Most American states generally have seals, which fill the role of a coat of arms. However, the state of Vermont (founded as the independant Vermont Republic) follows the American convention of assigning use of a seal for authenticating official state documents and also has its own separate coat of arms. Many American social fraternities and sororities, especially college organisations, use coats of arms in their symbolism. These arms vary widely in their level of adherence to European heraldic tradition. Organisations formed outside the United States with U.S. membership also may have a coat of arms. Roman Catholic dioceses and cathedrals have a coat of arms.
Artwork designed by
.

Chalon-sur-Saône, Saône-et-Loire, Saône-et-Loire
There are no reviews for this product yet.
Product ID: 217835667798255528
Created on