Funny stethoscopes for doctors on yellow name bath mat
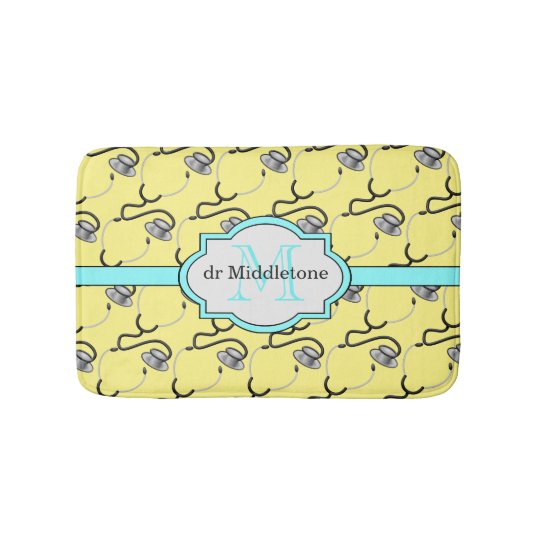 Details
Details
Details

Shape: Small Bath Mat
Give your feet a sweet treat right after your bath. Featuring a luxury soft memory foam, this bath mat cushions your feet and helps you feel great while you dry off and get ready to face the day.
Made out of high density memory foam, this soft rug cushions your feet and feels great while you dry off and get ready for the day.
Dimensions: 41 cm x 61 cm (16" x 24")
Quick-drying foam core, SBR non-skid backing.
Machine wash in cold water at gentle cycle. Use mild detergent, tumble dry low, shake to restore fluff, do not bleach, wash separately, do not use fabric softener.
Top material: 100% polyester. Fill material: 100% polyurethane. Base material: 100% styrene-butadiene rubber.
Warning: For use outside of the tub. Always place bath rugs on a dry surface before use.

 California Residents: Prop 65 Disclaimer
WARNING: This product contains chemicals known to the State of California to cause cancer and birth defects or other reproductive harm.
Funny stethoscopes for doctors on yellow name bath mat
Funny stethoscopes for doctors on banana yellow name & monogram Bath Mat. Cute, funny custom design for physician, phd, graduate, med student, intern, surgeon, nurse, for graduate, for party, for birthday. At the centre aqua blue+grey ribbons and an aqua blue+grey label with name and monogram initial. You can costumize and change the background it. Perfect personalised stethoscope pattern gift for medical graduate, for divisor, for PhD, party, for hospital workers, birthday and retirement. Also great gift for someone who recently graduated out of Medical School. Funny+gift+for+physicians+doctors, funny+party+gift+for+doctors, cute+diagnostic+stethoscope, funny+medical+party+souvenir, For+hospital+workers, Diagnostic+stethoscope+on+yellow, personalise+gift+for+med+student, diagnostic+stethoscope, custom+for+doctor+phd, funny+for+graduate, doctor, medical, funny, sensor, medical+equipment, heart+rate, doctor, funny, party, equipment, funny+doctors, sensor, humour, fun, cute, birthday, quirky, nice, cool, elegant, funny+doctor, graduation, hospital, humour, intern, surgeon, nurse
There are no reviews for this product yet.
Product ID: 256001558543927693
Created on