Keep Calm and Carry Awen Trucker Hat
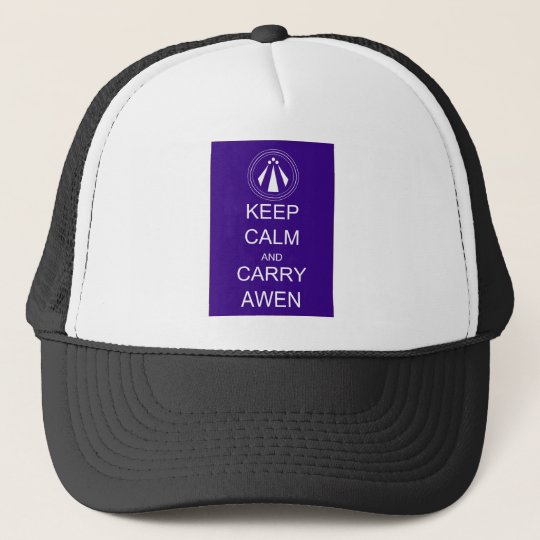 Style: Trucker Hat
Looking to cheer your team, promote your brand, or simply keep the sun out of your eyes? Our custom hats are perfect to meet all your needs. Customise the front with a logo, design or text and create an essential accessory that you will never leave behind!
Adjustable from 43.2 cm to 61 cm
100% polyester foam front
Wide area to feature your design
100% nylon mesh back keeps you cool
Available in 11 colour combinations
Recommended for ages 13+
Keep Calm and Carry Awen Trucker Hat
Awen is a Welsh word for "(poetic) inspiration". It is historically used to describe the divine inspiration of bards in the Welsh poetic tradition. Someone who is inspired, as a poet or a soothsayer, is an awenydd. The Order of Bards, Ovates and Druids (OBOD) describe the three lines as rays emanating from three points of light, with those points representing the triple aspect of deity and, also, the points at which the sun rises on the equinoxes and solstices - known as the Triad of the Sunrises. The emblem as used by the OBOD is surrounded by three circles representing the three circles of creation. Various Neo-druid groups and individuals have their own interpretation of the Awen. The three lines relate to earth, sea and air; body, mind and spirit; or love, wisdom and truth. It is also said that the Awen stands for not simply inspiration, but for inspiration of truth; without Awen one cannot proclaim truth. The three foundations of Awen are the understanding of truth, the love of truth, and the maintaining of truth. The rays also stand for the letters from which all others evolved: I, O, and U. It is said, "No one without Awen from God can pronounce these three letters correctly."
There are no reviews for this product yet.
Product ID: 148560720079052995
Created on