Neat Looking Barrel Cacti Found In Congress Postcard

Qty:
50% off with code UNIQUEXMAS4U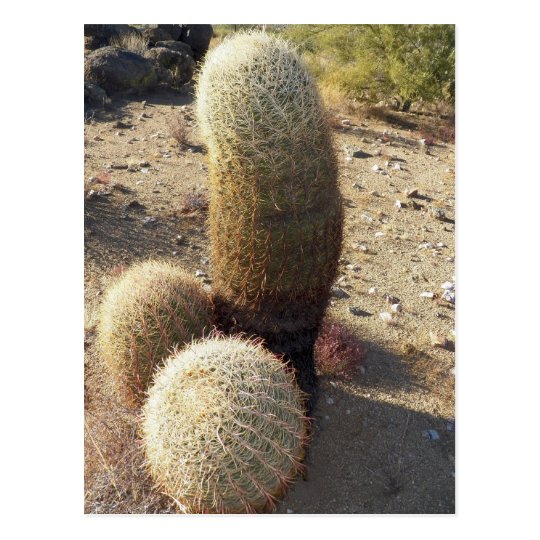 17 pt thickness / 120 lb weight
Light white, uncoated matte finish with an eggshell texture
Details

Details

Orientation: Postcard
Whether you're sending a charming hello, a heartfelt thanks or a special announcement, Zazzle's custom postcards are the perfect way to keep in touch. Add your favourite picture or pick a customisable design and make someone's day with a simple "hi"! All Zazzle postcards are printed in the UK.
Dimensions: 10.8 cm x 14.2 cm (portrait) or 14.2 cm x 10.8 cm (landscape)
Printed on ultra-heavy 110 lb, 12.5 point thick, semi-gloss paper
Printed in the UK
Paper Type: Matte
The most popular paper choice, Matte's eggshell texture is soft to the touch with a smooth finish that provides the perfect backdrop for your chosen designs.
Light white, uncoated matte finish with an eggshell texture
Paper is easy to write on and won't smudge
Made and printed in the UK
Neat Looking Barrel Cacti Found In Congress Postcard
thought of you "D"; soft smiles and your cell that day going to Burger King with your daughter "A"....soft smiles. ---------- 11/21/12 archived communication to editor Diane Cameron as in the past week she said she wanted to do a January article on me & my hikes and the rocks and such and so she said to share to her so here is what I shared to her: Sat, Dec 1, 2012 at 5:12 PM - Arizona Rocks! - I hit the mother lode when God engineered my life to share and know an ol' classic 40's style cowboy/miner/logger/hunter; Sonny G. on 8/23/11. He and I were pen pals on points of interest; exploring Arizona and Jesus. When I shared the hiking adventure I was about to embark- normality factors surfaced between my husband and I; protection and concerns of the unknown/uncertainties yet with God's Blessed Assurance the journey began. Hiking/Exploring/Rock Education/Reloading Education/Proper Hunting Education/Adit & Mine Dangers Education & even simple ol' campfire education...first it began West of the Grand Canyon than nearing the Navajo Nation area/New Mexico than God rerooted me back to Congress yet I am not daily tucked in my warm bed at home but out exploring and venturing off into the enduring ancient desert sleeping under the moonlit stars in caves or out on the vast areas of Congress and its surrounding towns in sleeping bags next to a cowboy coffee campfire with the wildlife using pioneering mannerism versus RVS or tents. We did the tent/tipi method near the Navajo nation though in bear country- I enjoy the fact that I like to leave artefacts where they are and in that respect Sonny has taught me how to make my own arrowheads for he has been doing them for over sixty years now. Sonny also taught me that even though it is okay to pick up spent cartridges in the desert you are always better to buy the same brand in bulk and sort out by weight. I have not only learned reloading by visual but done it on my own. I have learned what I always wanted to learn "in person" not from books and that was to hunt properly and I have done quail and rabbits. I have learned the rocks here in Congress are of a variety of minerals...olivine, rich quaity in black sand, iron, solution quartz, haematite that was originally pyrite, copper, chrssacolla???, crystals, staglites/tites?,salt crystal, gold, granite-ADD SOME MORE DIANE ") I have been in so many adits, declines, drifts, and tunnels/caves that I was seriously educated what a widow makers are and how many areas I was close to death. That in itself was good education giving to me by Sonny. I love exploring Antelope Peak, Weaver Mountain, Date Creek, Saguaro Hill, Round Mountain, Rich Hill, Hassayampa, Wickenburg Mountains, Hells Canyon, Hot Springs, Superstitions, Diamond Point, Verde, Dudleyville, Klondyke, Bisbee, Oatman, Bumble Bee, Alamo Lake/Brenda area, Bouse, Wenden, Signal, Eagle Tail Mountains, Burro Creek, Carefree area, Superior/Globe area, Rodeo Flats and Palm Canyon and the Navajo Nation/Grand Canyon areas yet I am most at home here in Congress for the desert has ruins, petroglyphs, natural waterfalls, abundance of wildlife- it's vast, sparse, ancient and enduring. I love it. During my walks I find artefacts- enjoy them, photograph them and jot them on my local hobby hiking page www.zazzle.com/congress_arizona*) and leave them alone for future generations to enjoy. Occassionally I haul home animal bones, antiques, uniquely shaped and coloured rocks and unusual items but for the most part I run into alot of leaverites ( leave it right there). I am greatly disappointed in less than a decade how damaging/destructive folks have been to the petroglyphs & Indian artefacts here in town as well as the trash dumping I continue to resolve. I am originally from Arizona. I met John way over twenty years ago during my college years on the Seaside Jersey shore now disappeared due to Hurricane Sandy. It was that Seaside Heights boardwalk that a gypsy gave us a token "the desert is your dream" and now its been a reality in a more profound way in recent years from scaling boulders to even skinning rattlers and I simply love living out the old pioneering ways. Wickenburg Sun asked husband John about Joy and who she is and according to him he loves her humour, heart, sense of adventure and innocence. There is never a dull moment knowing her. Many in town describe me as a sensitive old soul with soft and gentle qualities yet because of my love of the desert and ability to endure long hot walks that would wither most I am also a very tough pistol packing mama who even though I can make professional quality snakeskins & use snakebones for hat bands I prefer to relocate rattlesnakes to a more recluse area away from humans. They serve a good role in disease control/rats. Arizona Highways interviewed me April 2012 and one question was in all this travels, who is Sonny to Joy? and I replied that we are much like an ol' married couple. The eyes and movements startled some as John sat there in blush moment once again in knowing me. I love living life and smiling and laughing and to me I have truly rare finds...gems...to my life. The best rock I have seen in my rock exploring are not the green or heart rocks that I am drawn to-- it is the Rock of my Salvation! Without God, there'd be no John or Sonny or travels of any sorts. Sonny is truly that 1800's miner. His father Henry Eldon G. of Wilcox was born in the 1800's and was a miner and owned a rock shop/gas station/Chief trading post. Sonny has been mining since the 40's as well is college educated in religion/psychiatry/rocks. I learned from his family they had a tough time moving from mine to mountain tops living in canvas tents due to Sonny's father's mining methods. That is no way for a woman to be raised so I went to experience it. I agree. His family truly pioneered in very harsh cold climate areas. I have been travelling for 1 1/2 years now. Taking desert trash of empty shot up materials and turning them into functional needs like a wood burning stove with a way to have a shower. From creating culinary masterpieces for the elite to now eating cowboy campfire simplicities like chilli- In THIS journey my health still faces uncertainties however I am "living" life with His purpose in my heart and with John/Nick C's consistent love/support/care here at home to me/pets/cacti/flora. I have now lost over one hundred pounds and gained a gem; Sonny. Very grateful to God who He is sharing to my life. It began for me scaling boulders in a beautiful harsh desert that is silent as there could be no way of life exists to watching brims of life appear. I have hiked & explored it on foot, long atv exurcsions & mountain bike rides. I have been a desert rat, a solitary hiker, a wanderer to each surrounding town's deserts, & met amongst the desert others like surveyors, geologists, archelogists, locals, ranchers, horseback riders, prospectors, & herpetolgists ~ YOU NAME IT~ & we all share a common interest; Arizona's hikes can have you spent & breathing but we all are "happy" especially when we can enjoy skies dimly hued with oranges, blues, pinks & purples, etc. That to me is the best! Let me close by saying what my mother shares and that is- GOD DOESN'T GIVE YOU THE PEOPLE YOU WANT, HE GIVES YOU THE PEOPLE YOU NEED. TO HELP YOU, TO HURT YOU, TO LEAVE YOU, TO LOVE YOU AND TO MAKE YOU THE PERSON YOU WERE MEANT TO BE. and my father along with many locals feels I should be living life tucked safely at home yet God/John knows me best and I am "living" my life. :) Happy New Year To All and may 2013 show you all the mother lode in 2013- Happy Trails To you- xoxo, The Desert Walker p.s. prior to 2005 I was a electra cruiser rider & mountain bike not a hiker/walker with husband John and as well rollerbladed with Paige Spencer and Victoria Lake and gym time. 2005- 2008 walked solo or with husband on weekends when he had off mainly. Roadrunner resident Bob & Pam Visser sparked my interest of hikes and walks in Congress as I felt spent walking from their place to the park. Walked one time with neighbour Lloyd Quarles to the old water tanks mountain lion movement moment. A few times in 2006 with Jerry S/Linda M & dogs rock hounding for crystal near Date Creek off hwy 93 and prospected areas near Octave but I jut enjoy walking. Visited water co., produce stand with Ronda C, stop in at Mayor Ed Gregory's trading post or Jerry and Judy's Aunt Betty's Garden. I'd see horseback rider/principal Tony Wayas on my trails occassionally, few times I hiked with children Patience L, Stephanie M. & lil' Richie. The most frequent trail I walked was from my home here to Wickenburg Filiberto's for a burrito & back home as I usually passed walking the highway to explore the desert and look at unusual rocks; you can name some of Wickenburg's but I do recall geodes and I plum forgot the others. Boston Sam when I volunteered for Bingo went on 1 hike but he said I go way too far and fast for his standards. Feb. 2008 (then she ran produce stand & now works at local gas station) Ronda C. became a part of my hikes occassionally as she is full time employeed/active grandma to her Angel. She to this date is my favourite hiking partner. I enjoy my times with her alot. Fall 2008- walked with Ronda, Jerry Sutich, Ona Dell & Gilbert Dean Klein & Jeannie P. and miner/gold prospector Kenny S. gifted walking and hiking and rock hounding/miner materials for my hikes as he was proud of me and my consistency of hikes and he encouraged/inspired me to keep going and never give up. 2009- I hiked solo until March 2009 and as a favour to someone I hiked with Snakeman Thomas Maiden and Frank Serros (March-July). One time with Snakeman, Sam and Chris Samascott trailed/prospected with us and on another time Bryant Samascott and girlfriend and Snakeman/Frank explored caves and 1 time with Kat T. 1 time with neighbourhood Chuck Turner and North Ranch's avid hiker Al. Aug. 2009-until present Lois P. has been my devoted prayer and devotional lady to my life and Pat Fisher continues to be there for me yet her and Jimmy Fisher do not support my hikes away from home and plead for me to safely return for good. 2010- solo a few times with Ronda and 1 time with gold prospector/helicopter man/meteorite man Terry Soloman and another time with him & John where we 3 saved a bobcat and its on youtube here http://www.youtube.com/watch?v=5-zUz8haUJg ...I also hiked with Texas herpetoligist? Wayne H. and Meredith W., Tucson Saguaro National park folks on gps'ing crested saguaros I see in the desert, and when I hiked to Wickenburg I was cussed off by railroad/coal miner Charles Casmir Lipinski and later he was kind and gifted me his old Western book collection of Jack Slades/Zane Grey/Louis Lamour/Matt Stuart/Walker Tompkins and it is those books and my migun sessions that "sparked" my interest to pioneer yet John got laid off after 31 years of work and in Aug 2010 until July 2011 I worked 4 jobs and had minimal hikes and my health was ugh...hemostasis/vomiting, kidney stones, uvula,throat/orpharynx concerns, hernia, hip, abnormal swelling/inflammation, lungs, concerns in liver/kidney/spleen area,tumours/cysts/growths and this on/off infection. In Aug. I began pen pal'ing on rocks and such with an old time miner and than the journey of pioneering began. I know as I stated to you Diane to go see the sunset...last night with Dave...but its the simplicity of just that what draws me to sleep under the moonlit stars day in and out. I have the simplicity of sleeping in a warm bed yet God has me on this here adventure...I have not only learned it is not necessary to be a geologist to enjoy rocks or rock hounding although it is recommended to have basic understanding of rocks and minerals and THAT is for sure one of things Sonny has educated me about and I have met on my trails some who specialise in volcanic rocks and meteroites, fossils and crystals, specimens, suiseki, prospect for gold, stone carving and making arrowheads, fulgurites, etc. I watch Sonny. He will gather many bits of data as possible as we hike...crystal habits, foliation, mineral abundances, strikes/dips/declines/etc. and he even microscopes some rocks for further investigation. I have learned I am a rock hound and don't even know it. I reckon there is so many clubs and groups that people join and I am much the recluse/loner kind "see you in 10 days" and return to my hole kinda gal that I reckon my point is there is all kinds of rock folks to this world and I say do what you like and like what you do is all in the end- I love you Diane...have a great day and good luck with the article. I felt you KNOWING "who" I walked with should help create your story too. --- When I was home yesterday I was burning some old bills and in it I saw an ol' snail mail bible studies page from Yarnell retired miner/prospector George Subers that with the topic on the Lord he also enclosed maps of where he rock hounded and prospected for gold and so I grabbed the map last night and will view the areas I never did before because I never was much on rocks in general just the naturally heart shaped ones and green hued ones. I think key people to mention in article that sparked me to where I am now are God/Jesus, Bob & Pam V., Jerry S./Linda M., Ronda C./Lois P., Charles Casmir Lipinski, George Subers, Kenneth S. & Dan Jacobs as they are best friends so mention them together because they have been my team players, and Sonny G. are significant to the endurance of my travels as well as you "know" my husband John and his brother Nick...the rest were just passerbys...you can mention them all for it does not matter but these are the key folks to my hikes and spark of interest to pioneer Arizona. I have to go gather wood...I have a tummy ache so a good walk should do the trick. bye for now-

Artwork designed by
There are no reviews for this product yet.
Product ID: 239939459427485848
Created on