Pirate Booty Call IMPORTANT Read About Design Trucker Hat
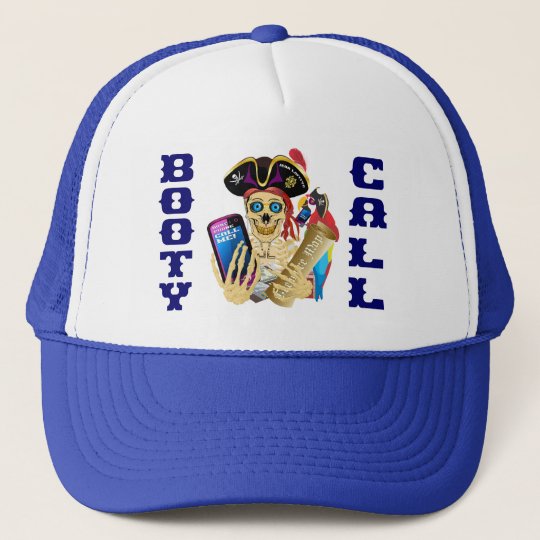 Details

Style: Trucker Hat
Looking to cheer your team, promote your brand, or simply keep the sun out of your eyes? Our custom hats are perfect to meet all your needs. Customise the front with a logo, design or text and create an essential accessory that you will never leave behind!
Adjustable from 43.2 cm to 61 cm
100% polyester foam front
Wide area to feature your design
100% nylon mesh back keeps you cool
Available in 11 colour combinations
Recommended for ages 13+
Pirate Booty Call IMPORTANT Read About Design Trucker Hat
All Sizes. Avast, me hearties, will ye be up to helpin' me find me Booty?! "Splice the mainbrace" is an order given aboard naval vessels to issue the crew with a drink. "Use yer (EYES) deadlights, matey!" You will not find this design anywhere else Copyright 2015. Click on "more" to edit and/or remove text. This design has a transparent background Hi-Res image. 37 Colours. A "Jean Lafitte" would be selected to lead the buccaneers to "Capture the Mayor and take over the City". City Mayors to "Walk the Plank". Golden Nugget Golden Nugget casino and resort in Lake Charles, La., now open! Cost to create an image Between $100.00 and $500.00, Your cost "FREE!" on Zazzle! Why? Because you don't have to pay for my services!. HINT Important: Please note if you chance an image, font or style or use "Form Factor" view you product in the customise edit window (before) you purchase. Reason, your changes may cause the design or text to shift outside the safe area and be cut off Jean Lafitte, Pirate King of Kings A t-shirt design is just a T-shirt design, unless it has a story. Meet Jean Lafitte (ca. 1776 – ca. 1823) was a pirate and privateer in the Gulf of Mexico in the early 19th century. He and his elder brother, Pierre, spelled their last name Laffite, but English-language documents of the time used "Lafitte", and this is the commonly seen spelling in the United States, including for places named for him. Lafitte is believed to have been born either in France or the French colony of Saint-Domingue. By 1805, he operated a warehouse in New Orleans to help disperse the goods smuggled by his brother Pierre Lafitte. After the United States government passed the Embargo Act of 1807, the Lafittes moved their operations to an island in Barataria Bay. By 1810, their new port was very successful; the Lafittes pursued a successful smuggling operation and also started to engage in piracy. Though Lafitte tried to warn Barataria of a British attack, the American authorities successfully invaded in 1814 and captured most of Lafitte's fleet. In return for a pardon, Lafitte helped General Andrew Jackson defend New Orleans against the British in 1815. The Lafittes then became spies for the Spanish and moved to Galveston Island, which they called Campeche, where they developed the colony there. Please Note: This design created in Corel Draw X-5-7 is up loaded @ 300dpi, and then reduced to a smaller size this makes the image and colour appear blurred, it will not print that way, thanks. Bill The short, route, Mardi Gras Louisiana Design Titles Links Below Open new Tab or Window Fundraising? Need Ideas? One-of-a-kind designs. Thank you For Viewing. Bill Images and text are for your personal use only. Can not be sold, reproduced or distributed without written permission of W. Campitelle Copyright 2005-2015 Info E-Mail to splasvegas@cox.net subject Comment or Suggestion

Artwork designed by
There are no reviews for this product yet.
Product ID: 148742775870206687
Created on