Name Your Royalty
How It Works
At Zazzle, you specify how much money you'll earn for each product that you sell. Choose any royalty rate from 5% up to 99%, and we'll increase the product price to pay you that royalty.
Once you've set a royalty rate for a particular product, that rate will apply to any other style option that the customer can choose for your design. For instance, if you post a t-shirt for sale, and a customer chooses a different shirt style or colour, then your royalty rate will be based on the final price of the shirt that the customer buys. If they pay more, you earn more.
Here are a few examples of base-rate prices for Zazzle products:
Basic White T-shirt: £9.65
Greeting Card: £2.95
Bumper Sticker: £3.95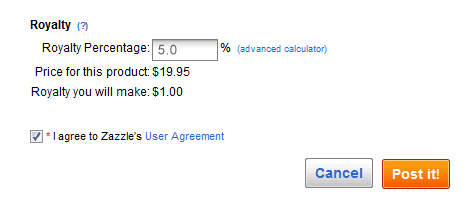 When you post any product for sale, our Royalty Calculator will allow you to set the royalty for that product, see the final price, and how much you will make.
Customisation of Your Design
As a Zazzle Seller, you will always receive the full royalty on your original customised product.
You will still receive your set royalty if you allow full customisation and the customer personalises your product with extra colours, text and/or images. In addition, we will pay you a 5% fixed royalty on specialty options and add-ons such as printing on additional design areas, 2XL and up sizes, and print frames.
FAQ