Star Pentagram Five 5 Pointed Symbol Classic Comic Classic Round Sticker
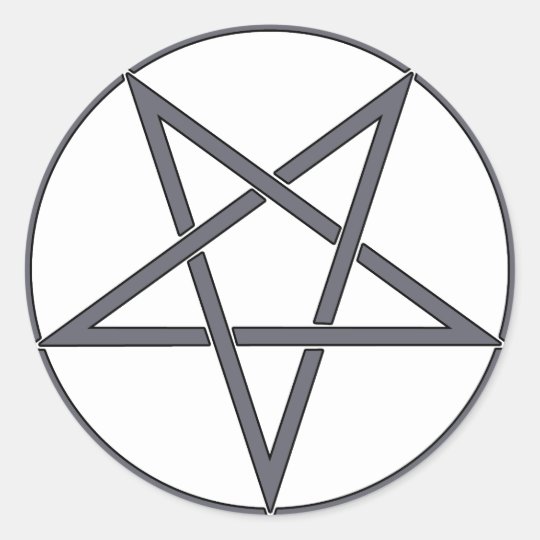 Shape: Classic Round Sticker
Create custom stickers for every occasion! From wedding favours to baking to labelling the kids' stuff, make your unique style stick.
Dimensions: Available in 2 sizes:

Large: 7.6 cm diameter, 6 stickers per sheet
Small: 3.8 cm diameter, 20 stickers per sheet

Printed on white acid-free paper
Vibrant full-colour, full-bleed printing
Scratch-resistant front, easy peel-and-stick back
Available in a matte or glossy finish
Use the "Customise it!" button to choose between 7 different shapes
Star Pentagram Five 5 Pointed Symbol Classic Comic Classic Round Sticker
The word pentagram comes from the Greek word πεντάγραμμον (pentagrammon), a noun form of πεντάγραμμος (pentagrammos) or πεντέγραμμος (pentegrammos), a word meaning roughly "five-lined" or "five lines". Pentagrams were used symbolically in ancient Greece and Babylonia, and are used today as a symbol of faith by many Wiccans, akin to the use of the cross by Christians and the Star of David by Jews. The pentagram has magical associations, and many people who practice Neopagan faiths wear jewellery incorporating the symbol. Christians once more commonly used the pentagram to represent the five wounds of Jesus, and it also has associations within Freemasonry. The word "pentacle" is sometimes used synonymously with "pentagram", and this usage is borne out by the Oxford English Dictionary, although that work specifies that a circumscription makes the shape more particularly a pentacle. Wiccans and Neo-pagans often make use of this more specific definition for a pentagram enclosed in a circle. A five-pointed star is a very common ideogram throughout the world. If drawn with lines of equal length and angles of 36° at each point, it is sometimes termed a golden five pointed star.If the colinear edges are joined together a pentagram is produced, which is the simplest of the unicursal star polygons, and a symbol of mystical and magical significance. The golden five-pointed star has particularly strong associations with military power and war. In certain traditions, there is a belief in the five classical elements, although unlike in ancient Greece, they are seen as symbolic as opposed to literal; that is, they are representations of the phases of matter. These five elements are invoked during many magical rituals, notably when consecrating a magic circle. The five elements are: Air, Fire, Water and Earth, plus Aether (or Spirit), which unites the other four. Various analogies have been devised to explain the concept of the five elements; for instance, the Wiccan Ann-Marie Gallagher used that of a tree, which is composed of Earth (with the soil and plant matter), Water (sap and moisture), Fire (through photosynthesis) and Air (the creation of oxygen from carbon dioxide). All these are united through Spirit. Traditionally, each element has been associated with a cardinal point of the compass; Air with east, Fire with south, Water with west, Earth with north and the Spirit with centre. However, some Wiccans, such as Frederic Lamond, have claimed that the set cardinal points are only those applicable to the geography of southern England, where Wicca evolved, and that Wiccans should determine which directions best suit each element in their region, for instance, those living on the east coast of North America should invoke Water in the east and not the west because the colossal body of water, the Atlantic ocean, is to their east. The five elements are symbolised by the five points of the pentagram, the most prominently used symbol of Wicca.

Artwork designed by
.

Chalon-sur-Saône, Saône-et-Loire, Saône-et-Loire
There are no reviews for this product yet.
Product ID: 217572104376036126
Created on