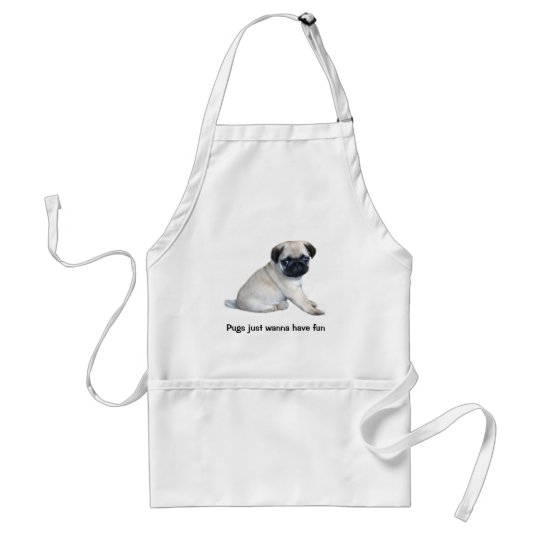 Details
Details
Details

Size: Standard Apron
Our medium length apron has three spacious pockets in the front so it holds everything whether you're cooking, painting or gardening. It's made from a 35/65 cotton-poly twill blend and it's machine washable. Slightly wider than our longer version, it's 61cm L x 71cm W. Made and shipped from the USA.
Pug Apron
Pugs are recognised for their even-tempers, playful personalities, and their outgoing, loving dispositions. The Pug's reason for living is to be near their people and to please them, and their sturdiness makes them a family favourite. Pugs are the companion dog par excellence; they have a great sense of humour and adore children. Pugs make peculiar sounds much like human babies; snoring, snorting and grunting. Pugs are curious by nature and will follow you around the house to see what you are doing. They are comfortable in small apartments because they need minimal exercise, but the breed can adapt easily to all situations. The Pug sheds, but its short coat requires little grooming. This square and cobby breed comes in fawn, silver fawn, apricot fawn or black, with a well-defined "mask" on his muzzle. A popular companion dog, the pug also excels in the show ring. This is a perfect gift for you or any Pug lover that you know.
There are no reviews for this product yet.
Product ID: 154859805327157699
Created on