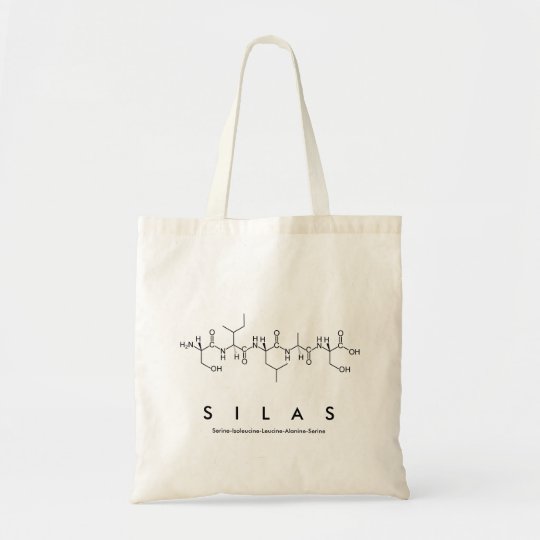 Design is previewed with RealView™ technology.
About This Product
Sold by
Style: Budget Tote
Design your own tote bag to haul your belongings in style! Available in 5 sizes to fit all your lugging needs, these bags are made of 100% natural material and can be customised with your favourite pictures and text for the perfect gift or casual accessory. Versatile, trendy and durable, this custom tote means you'll always look fashionable!
Dimensions: 40 cm l x 38.7 cm w
Material: 134 g. 100% cotton
Cotton handles with stress point reinforced stitching
Choice of 5 handle colours
Print on both sides for a small upcharge
Machine washable
About This Design
Silas peptide name bag
Silas spelled out in amino acids as S I L A S (Serine Isoleucine Leucine Alanine Serine) on a bag for the scientist in you. Find more peptide products at http://mipdatabase.com/products/showpp.php See also the periodic table name products at http://mipdatabase.com/products/showptnp.php Can't find what you want? Then tell me what you would like on the request a product page at: http://www.mipdatabase.com/products/request.php
Choose Standard or Expedited Shipping to get your gifts by Christmas
Reviews
There are no reviews for this design yet.
Have you purchased this product?
Other Info
Product ID: 149536671666202670
Created on
24/07/2018, 9:35